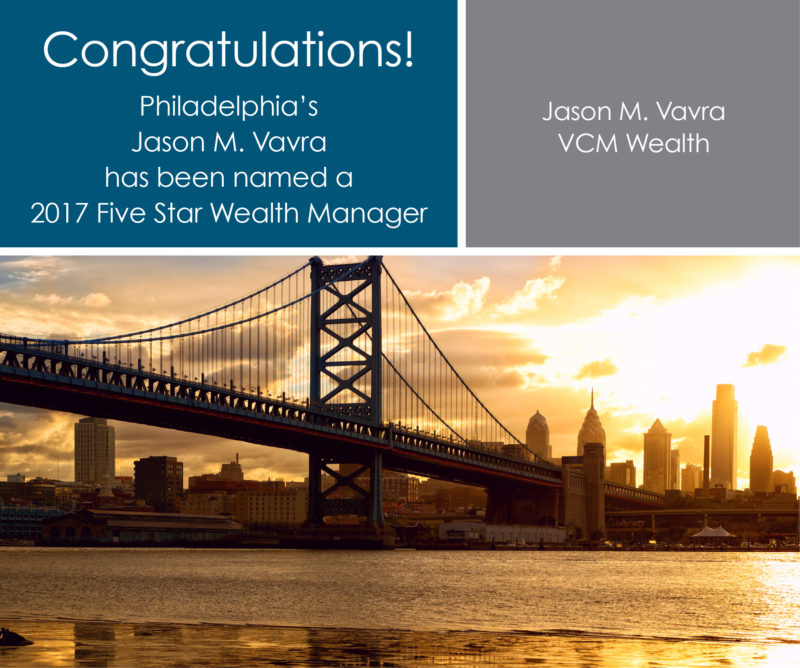 Jason Vavra is honored to have earned the Five Star Wealth Manager award. Wealth managers, including financial planners and advisors, CPAs and estate planning attorneys, are nominated by their firm or a peer to be considered for the Five Star Wealth Manager award.
No more than 7 percent of the wealth managers in a market receive the Five Star award.
Award candidates are evaluated against 10 objective criteria such as client retention rates, client assets administered and a favorable regulatory and complaint history.
1.Credentialed as an investment advisory representative (IAR), a FINRAregistered representative, a CPA or a licensed attorney.
2.Actively employed as a credentialed professional in the financial services industry for a minimum of five years.
3.Favorable regulatory and complaint history review.
4.Fulfilled their firm review based on internal firm standards.
5.Accepting new clients.
6.One-year client retention rate.
7.Five-year client retention rate.
8.Non-institutional discretionary and/or non-discretionary client assets administered.
9.Number of client households served.
10.Education and professional designations.
For more information visit www.fivestarprofessional.com or view pdf
Click Here to View the Five Star Professional announcement letter